Catercare Limited are Foster Refrigerator agents & dealers with Foster trained engineers.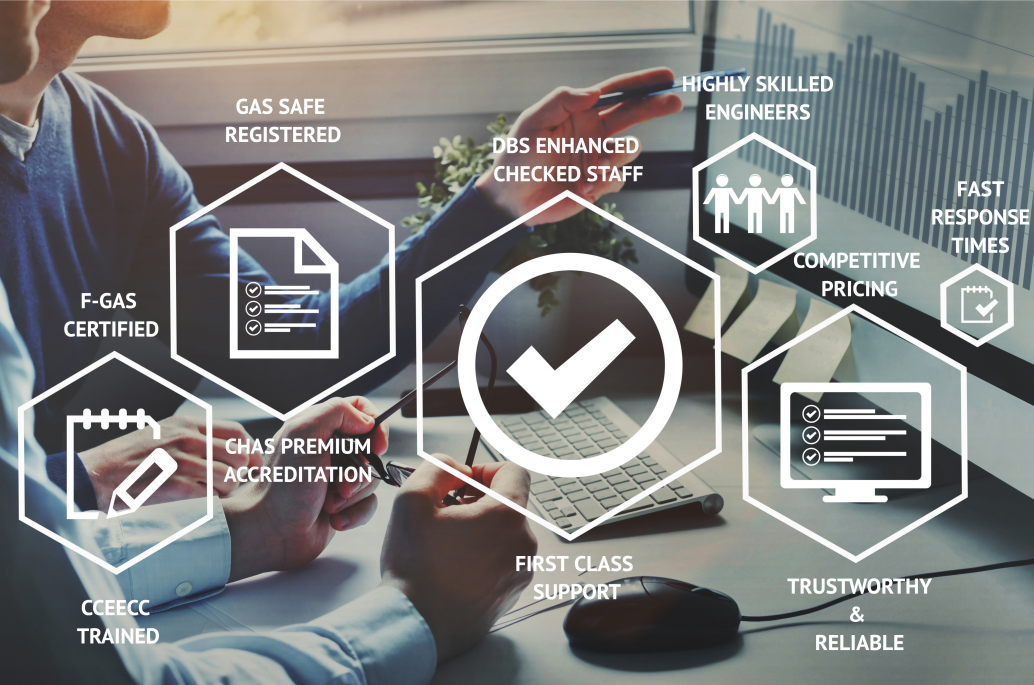 "Our Priority is to keep your equipment in service. We attend site quickly, diagnose the fault and if possible repair the fault from van stock, and leave your equipment working."
Key reasons to use Catercare:
We have fast response times
Our engineers are highly skilled, qualified and experienced
We offer competitive pricing
We provide bespoke services designed specifically for you
We are Gas Safe Registered
We are F-Gas Certified
We are CCEECC Trained
All our engineers are DBS enhanced checked
We carry out due diligence for health & safety and environmental health
We provide risk assessments & method statements
We are CHAS Premium Plus accredited (Contractor Health and Safety Assessed)
---
Helpful Tips to Save you Money
Commercial Refrigeration's Do's
Clean up spillages immediately
Clean and check your door seals weekly
Defrost commercial freezers to manufacturers' instructions
Visually check compressor fans and vents monthly
Clean off filters and grills weekly
Check working temperature monthly
Arrange regular maintenance by a qualified refrigeration engineer. This will keep your equipment in service and validate new equipment warranties
Commercial Refrigeration's don't
Overload the refrigeration unit and prevent the air flow from circulating
Allow fans to be obstructed
Put hot food in
Leave the door open
Slam doors
---
Our Maintenance Schedule
Inspect all plug tops to equipment for correct fuse rating and tightness of connections. Inspect flexible leads for damage.
Examine exterior and interior of cabinet for damage.
Check condition of shelves and supports.
Inspect door seals and catches.
Inspect the fans.
Inspect the vaporiser trays for damage and contamination.
Test compressor and or condenser under normal operating conditions.
Check system for refrigerant leaks.
Check expansion valve where fitted.
Clean condenser and blow out under high pressure to clear debris.
Carry out visual inspection of electrical wiring and controls.
Check defrost operation, heaters and drain pipe.
Inspect water flow, drain pan, water treatment facility and sensors for calcium contamination.
---
Why Choose Foster
Foster continues to celebrate their position as leading manufacturer for commercial refrigeration equipment for over 50 years. Their reputation has been built from decades of commitment to their customers, strong relationships with our distributors and a desire to give back to our community. 'Why Foster' explores some of the reasons we're chosen by customers time and time again.
SOS Free 24 hour delivery service
Free UK next day delivery service across our most popular products, helping you to Save on Stress.
Interest free credit
Backed by ITW, our genuine interest free credit offer, available across the Foster, Gamko and Hobart ranges allows established kitchens and start-up businesses alike to invest in the best equipment at an affordable price – giving you the support you need to make each venture a success.
+stayclear condenser
This award-winning innovation which is now fitted into Foster's EcoPro G2 and Gamko glass froster products has revolutionised the efficient operation and reduced the cost of maintaining these pieces of equipment.
Case studies
Whether they were in search of the best quality refrigeration products money could buy, or an affordable way to start their dream business, we are proud to say that our customers love the products and services that we provide.
Royal warrant
For 25 years we've held the prestigious royal warrant of appointment for supplying commercial refrigeration to Her Majesty, The Queen. Read more about this accolade and what it means to us.
Warranty
We strive for continuous excellence, both in the quality of our products and the level of service we provide to customers.
Foster Equipment we Work on
Foster XR 415H Xtra Economy Refrigerator (+3°/+5°C) Foster XR 600 H Xtra Refrigerator (+2°/+8°C) Foster XR 415G Xtra Economy Refrigerator with Glass Door (+3°/+5°C) Foster FSL 400 H Slimline Refrigerator (+1°/+4°C) Foster EP 700 SH EcoPro G2 Low Height Refrigerator (+1°C/+4°C) Foster EP 700 H EcoPro G2 Refrigerator (+1°/+4°C) Foster XR 1300 H Xtra Refrigerator (+2°/+8°C) Foster FSL 800 H Slimline Refrigerator (+1°/+4°C) Foster FSL 400 G Slimline Refrigerator with Glass Door (+1°/+4°C) Foster EP 700 G EcoPro G2 Refrigerator with Glass Door (+1°/+4°C) Foster EP 1440 H EcoPro G2 Refrigerator (+1°/+4°C) Foster EP 700 H2 EcoPro G2 Refrigerator with Half Doors (+1°/+4°C) Foster FSL 800 G Slimline Refrigerator with Glass Doors (+1°/+4°C) Foster EP 1440 H4 EcoPro G2 Refrigerator with Half Doors (+1°/+4°C) Foster EP 700 F EcoPro G2 Fish Cabinet (-1°/+1°C) Foster EP 700 P EcoPro G2 Pass Through Refrigerator (+1°/+4°C) Foster EP 1440 G EcoPro G2 Refrigerator with Glass doors (+1°/+4°C) Foster EP 700 HL EcoPro G2 Dual Temperature (+1°/+4°C & -18°/-21°C) Foster XR 2 H Xtra Refrigerated Counter (+2°/+8°C) Foster XR 3 H Xtra Refrigerated Counter (+2°/+8°C) Foster EP 1/2 H EcoPro G2 Refrigerator Counter (+1°/+4°C) Foster EP 1/3 H EcoPro G2 Refrigerator Counter (+1°/+4°C) Foster EP 1/2 HS EcoPro G2 Refrigerator Counter with Saladette (+1°/+4°C) Foster EP 2/2 H EcoPro G2 Refrigerator Counter (+1°/+4°C) Foster EP 1/3 HS EcoPro G2 Refrigerator Counter with Saladette (+1°/+4°C) Foster EP 1/2 G EcoPro G2 Refrigerator Counter with Glass Doors (+1°/+4°C) Foster EP 2/2 HS EcoPro G2 Refrigerator Counter with Saladette (+1°/+4°C) Foster EP 2/3 H EcoPro G2 Refrigerator Counter (+1°/+4°C) Foster EP 1/4 H EcoPro G2 Refrigerator Counter (+1°/+4°C) Foster EP 1/3 G EcoPro G2 Refrigerator Counter with Glass Doors (+1°/+4°C) Foster EP 2/3 HS EcoPro G2 Refrigerator Counter with Saladette (+1°/+4°C)
Foster EP 1/4 HS EcoPro G2 Refrigerator Counter with Saladette (+1°/+4°C) Foster EP 1/4 G EcoPro G2 Refrigerator Counter with Glass Doors (+1°/+4°C) Foster Low Level Counter LL 2/1HDRW (+1°/+4°C) Foster Low Level Counter LL 2/1HD (+1°/+4°C) Foster Low Level Counter LL 2/4H (+1°/+4°C) Foster PC97/4 Refrigerated Pan Chiller (970mm Width) - with Stainless Cover (+1°/+4°C) Foster PC140/6 Refrigerated Pan Chiller (1400mm Width) - with Stainless Cover (+1°/+4°C) Foster PC150/7 Refrigerated Pan Chiller (1500mm Width) - with Stainless Cover (+1°/+4°C) Foster PC189/9 Refrigerated Pan Chiller (1890mm Width) - with Stainless Cover (+1°/+4°C) Foster HR 360 FT Prep Table (+1°/+4°C) Foster FPS 2 HR Prep Station (+1°/+4°C) Foster FPS 3 HR Prep Station (+1°/+4°C) Foster FPS1/3HR-101 Prep Station with Roller Blind Night Cover (+1°/+4°C) Foster FPS 4 HR Prep Station (+1°/+4°C) Foster FPS 5 HR Prep Station (+1°/+4°C) Foster HR 150 Refrigerator Undercounter Cabinet (+3°/+5°C) Foster LR 150 Freezer Undercounter Cabinet (-18°/-21°C) Foster HR 200 Refrigerator Undercounter Cabinet (+3°/+5°C) Foster HR 150G Refrigerator Undercounter Cabinet with Glass Door (+3°/+5°C) Foster HR 1502D Refrigerator Undercounter Cabinet with Drawers (+3°/+5°C) Foster HR 1503D Refrigerator Undercounter Cabinet with Drawers (+3°/+5°C) Foster LR 200 Freezer Undercounter Cabinet (-18°/-21°C) Foster HR 200G Refrigerator Undercounter Cabinet with Glass Door (+3°/+5°C) Foster HR 360 Refrigerator Undercounter Cabinet (+3°/+5°C) Foster LR 120 Freezer Undercounter Space Saver Cabinet (-18°/-21°C) Foster LR 360 Freezer Undercounter Cabinet (-18°/-21°C) Foster HR 360G Refrigerator Undercounter Cabinet with Glass Door (+3°/+5°C) Foster HR 240 Refrigerator Undercounter Space Saver Cabinet (+1°/+4°C) Foster LR 240 Freezer Undercounter Space Saver Cabinet (-18°/-21°C)
Foster EP 20 BSR Refrigerator (+1°/+4°C)
Foster EP 20 BSF Bakery Freezer (-18°/-21°C) Foster PRO 16 DR Retarder (-4°/+4°C) Foster FMSLIM 700 NG Multideck (+2°/+4°C) Foster FMSLIM 900 NG Multideck (+2°/+4°C) Foster FMSLIM 700 RF Multideck With Lockable Shutter (+2°/+4°C) Foster FMPRO 900 NG Multideck (+2°/+4°C) Foster FMSLIM 900 RF Multideck With Lockable Shutter (+2°/+4°C) Foster FMSLIM 1200 NG Multideck (+2°/+4°C) Foster FMPRO 900 RF Multideck With Lockable Shutter (+2°/+4°C) Foster FMSLIM 1500 NG Multideck (+2°/+4°C) Foster FMSLIM 1200 RF Multideck With Lockable Shutter (+2°/+4°C) A stylish unit that allows optimum storage whilst maintaining the smallest possible footprint. An Foster FMPRO 1200 NG Multideck (+2°/+4°C) Foster FMSLIM 1500 RF Multideck With Lockable Shutter (+2°/+4°C) Foster FMPRO 1200 RF Multideck With Lockable Shutter (+2°/+4°C) Foster FMPRO 1500 NG Multideck (+2°/+4°C) Foster FMPRO 1500 RF Multideck With Lockable Shutter (+2°/+4°C) Foster FMSLIM 1800 NG Multideck (+2°/+4°C) Foster FMSLIM 1800 RF Multideck With Lockable Shutter (+2°/+4°C) Foster FMPRO 1800 NG Multideck (+2°/+4°C) Foster FMPRO 1800 RF Multideck With Lockable Shutter (+2°/+4°C) Gamko VKHC/10R Counter Top Cooler (+4°/+8°C) Gamko VKHC/10F Counter Top Freezer (-8°/-12°C) Gamko Maxiglass Noverta MG3/150RG Glass Door Bottle Cooler (+2°/+18°C) Gamko Maxiglass Noverta MG3/150R Solid Door Bottle Cooler (+2°/+18°C) Gamko Maxiglass Noverta LG3/150RG Low Height Glass Door Bottle Cooler (+2°/+18°C) Gamko Maxiglass Noverta LG3/150R Low Height Solid Door Bottle Cooler (+2°/+18°C) Gamko VKHC/12R Counter Top Cooler (+4°/+8°C) Gamko VKHC/12F Counter Top Freezer (-8°/-12°C) Gamko Maxiglass Noverta MG2/150SD Sliding Door Bottle Cooler (+2°/+18°C) Gamko Maxiglass Noverta MG3/250G Glass Door Bottle Cooler (+2°/+18°C)
Gamko Maxiglass Noverta LG3/250G Low Height Glass Door Bottle Cooler (+2°/+18°C) Gamko Maxiglass Noverta LG3/250SD Low Height Sliding Door Bottle Cooler (+2°/+18°C) Gamko Maxiglass Noverta MG3/250SD Sliding Door Bottle Cooler (+2°/+18°C) Gamko Maxiglass Noverta MG3/250 Solid Door Bottle Cooler (+2°/+18°C) The Gamko MG3/250 is a double door bottle cooler with two hinged solid doors. It is capable of holding Gamko Maxiglass Noverta MG3/300RG Upright Bottle Cooler (+2°/+18°C) Gamko GF/100RS Solid Door Glass Froster (-10°/-14°C) Gamko FK2-25/4R Plug-Ready Under Counter Keg Cooler (0°/+7°C) Gamko Maxiglass Noverta MG3/275G Glass Door Bottle Cooler (+2°/+18°C) Gamko Maxiglass Noverta MG3/315G Glass Door Bottle Cooler (+2°/+18°C) Gamko Maxiglass Noverta LG3/315G Low Height Glass Door Bottle Cooler (+2°/+18°C) Gamko GF/100RG Glass Door Glass Froster (-10°/-14°C) Gamko Maxiglass Noverta MG3/275SD Glass Sliding Door Bottle Cooler (+2°/+18°C) Gamko Maxiglass Noverta LG3/315SD Low Height Sliding Door Bottle Cooler (+2°/+18°C) Gamko Maxiglass Noverta MG3/315SD Glass Sliding Door Bottle Cooler (+2°/+18°C) Gamko FK2-25/8R Plug-Ready Under Counter Keg Cooler (0°/+7°C) Gamko Maxiglass Noverta MG3/500G Upright Bottle Cooler (+2°/+18°C) Gamko Eco-Line Noverta Premium E 3/22 MU84 (+2°/+18°C) Gamko Eco-Line Noverta Premium E 3/22 GMU84 (+2°/+18°C) Gamko Eco-Line Noverta Premium E 3/222 MU84 (+2°/+18°C) Gamko Maxiglass Noverta MG3/500SD Upright Bottle Cooler (+2°/+18°C) Gamko Eco-Line Noverta Premium E 3/222 GMU84 (+2°/+18°C) Gamko Eco-Line Noverta Premium E 3/2222 MU84 (+2°/+18°C) Gamko Eco-Line Noverta Premium E 3/2222 GMU84 (+2°/+18°C) Foster DWC 20 DC Direct Chill Drinking Water Cooler Foster CTDWC 30 DC Counter Top Drinking Water Cooler Foster DWC 30 Drinking Water Cooler Foster FS20 Ice Cuber Foster FS40 Ice Cuber Foster FS50 Ice Cuber Foster FS90 Ice Cuber Foster F132 Ice Cuber Head Unit
Foster FID 35 Ice Dispenser Foster F202 Ice Cuber Head Unit Foster FMIF 120 Ice Flaker Foster F132 Ice Cuber with SB 105 Bin Foster F302 Ice Cuber Head Unit Foster F202 Ice Cuber with SB 205 Bin Foster F132 Ice Cuber with SB 205 Bin & Lid Foster F302 Ice Cuber with SB 205 Bin Foster FMIF 220 Ice Flaker with SB 205 Bin & Lid Foster F202 Ice Cuber with SB 305 Bin Foster FMIF 220 Ice Flaker with SB 305 Bin & Lid Foster F302 Ice Cuber with SB 305 Bin Foster FCF 305 Chest Freezer (-18°/-21°C) Foster FCF 405 Chest Freezer (-18°/-21°C) Foster FCF 505 Chest Freezer (-18°/-21°C) Foster EP 820 MW Heavy Duty Work Out Cabinet (-2°/+2°C) Foster FHC 291 XM Heated Cabinet (+70°C/+85°C) Foster EP 820 LW Heavy Duty Work Out Cabinet (-18°/-21°C) Foster FHC 540 XM Heated Cabinet (+70°C/+85°C) Foster GRL 1 H Gastronorm Roll In Cabinet (+1°/+4°C) Foster GRL 2 H Gastronorm Roll In Cabinet (+1°/+4°C) Foster GRL 1 HG Gastronorm Roll In Cabinet (+1°/+4°C) Foster GRL 2 HG Gastronorm Roll In Cabinet (+1°/+4°C) Foster XR 10 Xtra Blast Chiller Foster XR 20 Xtra Blast Chiller Foster XR 35 Xtra Blast Chiller Foster BCT15-7 Blast Chiller/Freezer Foster BFT15 Blast Freezer Foster BCT22-12 Blast Chiller/Freezer Foster BFT 22 Blast Freezer Foster CT 75KG Controlled Thaw Cabinet
Foster BCT38-18 Blast Chiller/Freezer Foster BFT38 Blast Freezer Foster BCT52-26 Blast Chiller/Freezer Foster BFT 52 Blast Freezer Foster BCCFTRI 1 Roll In Cabinet Blast Chiller (Remote) Foster RBCT 20-60R Roll In Cabinet Blast Chiller (Remote) Foster MBCT75 Modular Blast Chiller Foster MBCT100 Modular Blast Chiller Foster MBCT75W Modular Blast Chiller Foster MBCT100W Modular Blast Chiller Foster MBCT150 Modular Blast Chiller Foster MBCT150W Modular Blast Chiller Foster MBCFT75 Modular Blast Chiller/Freezer Foster MBCFT100 Modular Blast Chiller Foster MBCFT75W Modular Blast Chiller/Freezer Foster MBCFT100W Modular Blast Chiller Foster MBCFT150 Modular Blast Chiller Foster MBCFT150W Modular Blast Chiller Foster RBCT 20-60I Roll In Cabinet Blast Chiller (Integral) Foster MBCT250 Modular Blast Chiller Foster MBCT250W Modular Blast Chiller Foster MBCFT250 Modular Blast Chiller Foster MBCFT250W Modular Blast Chiller Foster XR 600 L Xtra Freezer (-18°/-21°C) Foster XR 415L Xtra Economy Freezer (-18°/-21°C) Foster FSL 400 L Slimline Freezer (-18°/-21°C) Foster EP 700 SL EcoPro G2 Low Height Freezer (-18°C/-21°C) Foster XR 1300 L Xtra Freezer (-18°/-21°C) Foster EP 700 L EcoPro G2 Freezer (-18°/-21°C) Foster FSL 800 L Slimline Freezer (-18°/-21°C) Foster EP 1440 L EcoPro G2 Freezer (-18°/-21°C)
Foster EP 700 L2 EcoPro G2 Freezer with Half Doors (-18°/-21°C) Foster EP 700 F EcoPro G2 Fish Cabinet (-1°/+1°C) Foster EP 1440 L4 EcoPro G2 Freezer with Half Doors (-18°/-21°C) Foster EP 700 HL EcoPro G2 Dual Temperature (+1°/+4°C & -18°/-21°C)
Foster FSL 400 M Slimline Meat/Chill (-2°/+2°C)
Foster EP 700 M EcoPro G2 Meat/Chill (-2°/+2°C)
Foster FSL 800 M Slimline Meat/Chill (-2°/+2°C)
Foster EP 1440 M EcoPro G2 Meat/Chill (-2°/+2°C) Foster EP 1440 M4 EcoPro G2 Meat/Chill with Half Doors (-2°/+2°C) Foster EP 700 W EcoPro G2 Wine Model (+10°/+12°C) Foster EP 1440 W EcoPro G2 Wine Model (+10°/+12°C) Foster EP 1/2 L EcoPro G2 Freezer Counter (-18°/-21°C) Foster EP 1/3 L EcoPro G2 Freezer Counter (-18°/-21°C) Foster EP 1/4 L EcoPro G2 Freezer Counter (-18°/-21°C) Foster EP 1/2 M EcoPro G2 Meat/Chill Counter (-2°/+2°C) Foster EP 1/3 M EcoPro G2 Meat/Chill Counter (-2°/+2°C) Foster EP 1/4 M EcoPro G2 Meat/Chill Counter (-2°/+2°C) Foster FFC2-1 FlexDrawer Refrigerator/Freezer (+1°/+4°C) and (-18°/-21°C) Foster FFC3-1 FlexDrawer Refrigerator/Freezer (+1°/+4°C) and (-18°/-21°C) Foster FFC4-2 FlexDrawer Refrigerator/Freezer (+1°/+4°C) and (-18°/-21°C) Foster FFC6-2 FlexDrawer Refrigerator/Freezer (+1°/+4°C) and (-18°/-21°C)